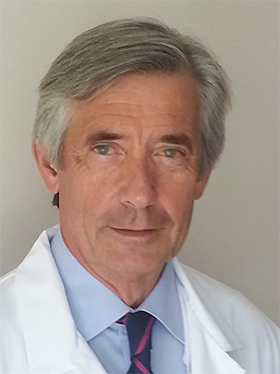 I have devoted 30 years of my professional life as an orthopedic surgeon exclusively to the shoulder joint.
Of the over 25,000 shoulders that I have consulted on 6,300 required surgical intervention, primarily by means of arthroscopic microsurgery. The remainder were "cured" or stabilized by rehabilitation.
My approach of the patient, as an orthopedic surgeon specialized in the shoulder, is based on 3 fundamental principles :
- Establish a diagnosis of the lesion in question as accurately as possible by listening to the patient, conducting a full clinical examination, and following through with a specific imaging.

- Discuss with the patient, a complete range of treatment options, both surgical and non-surgical, based on their age, medical history, and functional demands.

- Explain to the patient, that manual rehabilitation based of simple basic exercises and specialized professional care taken by a motivated patient is unavoidable; whether the shoulder is operated on or not.

It takes 5 years to learn how to operate a shoulder. It takes 10 years to learn how to be "good" at operating a shoulder.
It takes 20 years to learn when "not" to operate on a shoulder...